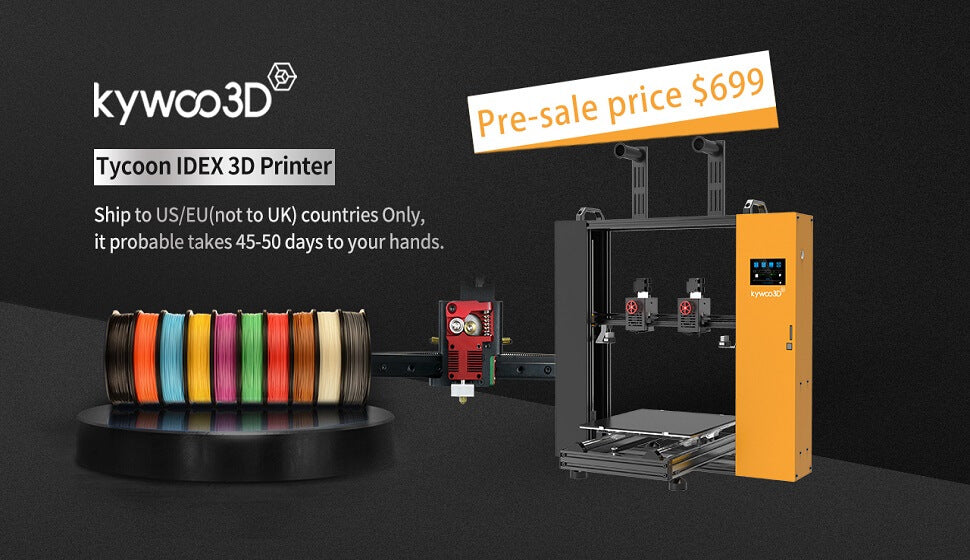 What is IDEX Printing System?
IDEX (Independent Dual Extrusion) represents a 3d printer that contains two independent extrusion heads to print, allowing the printer to print independently during the printing process. Compared with the single extrusion 3D printer, the dual extrusion mechanism means that the productivity is doubled, but The investment cost of other 3D printers is the same.
IDEX is the only extrusion system that can print independently with two heads. Different from the double-in and one-out machine, This IDEX system allows for enabling copy and mirror printing modes that can print two copies at a time.
What are the benefits of IDEX machine?
It is well-known that both double-in and one-out machines and IDE machines can print high-quality jobs as well as execute high precision technology, but IDEX 3d printer performs better and professional functions.
Three Typical Features of a IDEX 3D Printer:
1.Allow Dual-color Model
A dual-color model is when one model has a 2 different color pattern. The two different colors can show an image or information. An example of a dual-color model is the coin, which is printed in the colors red and black.
2.Allow Dual-material Model
IDEX allows users to print more complex parts using water-soluble supports, and combine materials to obtain different mechanical properties in a single print. Two different colors can be used, and different nozzle sizes can be combined to obtain more durable parts and save time.
3.Allow Copy and Mirror Printing
IDEX allows you to print the same model at the same time, enables you to copy printing, Printing is more efficient and save printing time.The investment cost of other 3D printers will decreased about a half.
Most of the IDEX machines have these three functions in the market, now most of the idex machines are used in the industry area. Compare to the single extruder, a dual extruder produce more surprises for us, which requires higher 3d printing technology. Especially when you want to print some relatively difficult models, IDEX machines need more experience in 3D printing capabilities. If you are a beginner in 3D printing, it is recommended to start with a single extrusion machine.
Recently Kywoo just released the Tycoon IDEX machine as well, now let's take a look at about it.
Tycoon IDEX 3D Printer is actually design based on Tycoon max 3d printer, covers all the main functions as tycoon, except wifi function, but with bigger building size of 300*300*350mm. what about the other building size if print with other modes.
Single Color Printing Size: 255*300*350mm

Dual Color Printing Size: 300*300*350mm

Copy Printing Size: 120*300*350mm

Mirror Printing Size:120*300*350m

m

Tycoon IDEX 3D Printer Advantages:
1.Easy Beginner-Friendly Setup
Unlike with other DIY 3D printers, the installation and setup of the Tycoon IDEX printer take just minutes - no matter where you are. Simply install 4 screws and connect 5 wires and you are good to go. Not only suitable for 3D printing seasoned professionals, but also complete beginners can start their 3D printing roads all at once.
2.Advanced Fun From IDEX, Four Printing Modes Supported
Tycoon IDEX 3D printer can simultaneously print with two colors and two types of filaments and supports four printing modes: two-color printing, duplication printing, mirror printing, single-nozzle printing, etc., which greatly improves printing efficiency and brings you more printing pleasure.
3.X-Axis Linear Rail Design Makes Printing Smoother And Durable
A stable X-axis linear rail structure, dual Z-axis, and gantry frame improve accuracy by 30% vs traditional pulley systems. These features combine to greatly increase stability and reduce shaking, resulting in more effective, higher-quality printing.
4.Double Stable Ensured, No Wobbling & Shake Anymore
We are making a difference. Unlike other 3d printers, the structure of the Tycoon series printer is specially designed with dual Z-axis, dual Y-axis, dual gantry structure and synchronous belt for 100% stability ensured, no wobble & shake anymore.
5.Unleash Your Creativity With Integrated Direct Drive Extrusion, More Filament Compatibility Supported
Featuring a direct drive, the Tycoon IDEX printer prints using a range of filaments, and offers more precise printing than Bowden extrusion; compatible with a large range of filament types, including PLA, PETG, ABS, TPU, silica gel, and so on.
6.HD Camera Remote Printing
The machine is equipped with a high-definition camera as standard. Even if users are not near the printer, they can check the printing situation at any time and anywhere via the computer or mobile APP, remotely control the printer in real-time, and deal with printing problems in time.
7.Auto Shut-Down, Electricity Conserving, And Eco-Friendly
The printer will turn off automatically when the printing is finished, no need to power it off manually, keeping you undisturbed and saving electricity. Once you need to continue printing, just simply turn on the reset switch on the side shell of the printer. 
8.Generous Build Volume
The printing size of the single extruder is up to 300*300*350mm, or by utilizing the Duplication Mode or Mirror Mode to print two identical models at the same time, up to 150*300*350mm.
9.Powerful 32-Bit Silent Mainboard with TMC2209 Drive
No disturbing problem and failure models happened again while printing, Most of the basic DIY 3d printers come with ordinary mainboards, the "whining" and "whirring" noises that come out while printing might drive you crazy. Tycoon IDEX comes with a 32-bit silent mainboard and the latest Marlin2.0 firmware, higher-speed processing, stronger expansion, lower decibel. Tycoon IDEX applies TMC2209 drivers, silent printing, no disturbing problem happened anymore while working. Less heat produced, more stable performance.
11.Nozzle Cleaning Brushes Greatly Improve The Print Quality
Dual nozzles are both equipped with a cleaning brush. When you need to change colors during printing or when printing is just started, the brush can clean up the condensed filament at the nozzles, greatly improving the quality of the printed works and keeping them clean and tidy.
12.Photoelectric Limit Switch
With two photoelectric limit switches on the X-axis, the printer can detect more sensitively than the normal mechanical limit switches, contributing to a more precise printing and a longer lifespan.
13.Color HD Touch Screen With 7 Languages Supported
An HD color touch screen and ergonomic interface design make it more detailed and well-executed. truly achieves simple operation and better responsiveness; seven supported languages ensure full accessibility.
14.Filament Sensor, Fewer Worries On Print Failure
Whenever there is a possible accident like filament run-out or filament breakage, the smart sensor makes the machine suspend printing for resuming print after the new filament feeds in.
16.Reliable Resume Printing Function
The machine can automatically resume printing after power-off or filament breakage. Fewer worries about print failure.
17.Integrated Extrusion Kit
The extrusion and heat dissipation structure is seamlessly integrated to avoid vibration and terrible wear, greatly increasing performance and reducing size.
18.Tempered Glass Platform, Excellent Adhesion
Ultra-base covered by micro-porous coating, shows strong adhesion in printing. Easy to take off models by hand or with a little help from the scrapper for very large models.
19.Double Power Supply Equipped
The dual power supply scheme is adopted, and the 350W power supply separately supplies power to the hot bed to increase the heating speed of the hot bed and ensure a constant temperature. and another 100 W power supply supplier for the other parts of the machine.
20.Single Exturder Printing Allowed
Buying a machine is equivalent to owning a single-extrusion 3d printer and a dual-extrusion 3d printer, which can not only implement dual-extrusion printing, but also single-extrusion printing to achieve monochrome printing.
This is a machine equipped with all the functions that IDEX 3d printer should have, and now it is allow the pre-ordered on our website, but before you place the order, pls read the purchasing notification clearly incase you need it ugently.  if you have any inquiry, welcome to leave your message to business@kywoo3d.com or welcome to join our Facebook Group to learn more printing details. Start Saving 100 Bucks to Get your Tycoon Idex Now.