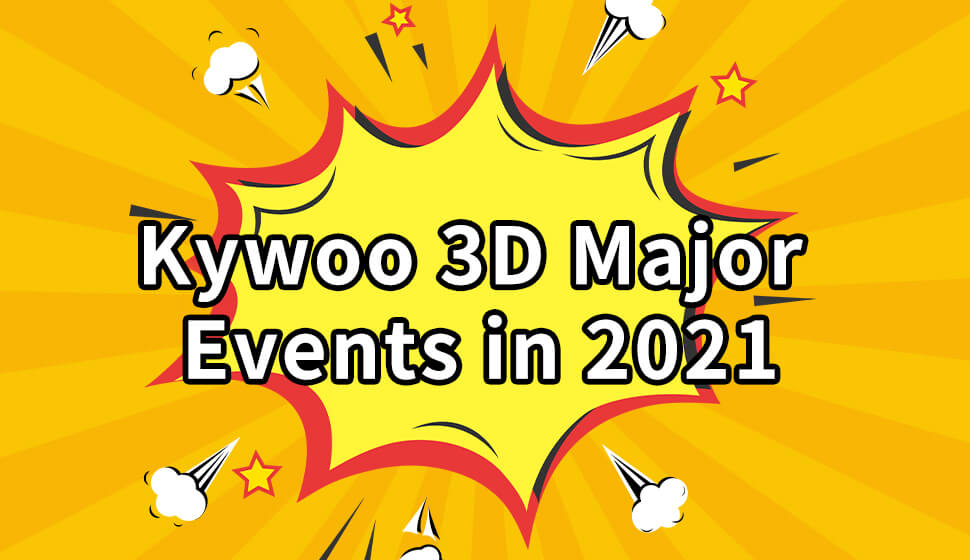 Only one month left before 2022's arrival. In 2021, Kywoo 3D has experienced a lot and has grown a lot. We launched new 3d printers and received the support of users from all over the world. We participated in the Formnext + PM South China Exhibition and Open-source Annual Conference in Shenzhen, and have been acquainted by more and more people. Let us take a look at the major events that Kywoo 3D has occurred this year.
A Year of Growth
Since the establishment of Kywoo 3D at the end of July 2020, it has been one year and four months. 2020 is the year when Kywoo 3D started. We started the Kickstarter crowdfunding campaign with two iconic machines, Tycoon and Tycoon Max. 2021 is the year of Kywoo 3D's growth.
While continuously improving the original Tycoon and Tycoon Max 3d printers from the hardware and firmware, the company's R&D team meticulously developed and launched three other 3D printers, the independent-dual-extruder printer, Tycoon IDEX, Tycoon Slim giving users more DIY options, and Kywoo Mini, which focuses on STEAM education. While enriching the product line and providing users with a diversified choice of products with different positioning, it also enhances the market adaptability of Kywoo's products.
A Year Acquainted by More People
In September, Kywoo 3D participated in the Formnext + PM South China exhibition, which is also the first exhibition that Kywoo 3D participated in since its establishment. The variety of differentiated 3D printers of Kywoo have been widely loved by professional buyers, ordinary enthusiasts, and the media. In early November, Kywoo 3D took Tycoon 3D printer to participate in the Coscon'21 Shenzhen hosted by Kaiyuanshe to help the development of the domestic open-source community.
In addition, Kywoo 3D products have been loved by many 3D printing-related technology channel Youtubers. They brought Kywoo 3D printers to many new friends, making us known to more 3D printing enthusiasts.
A Year Full of Challenges
2021, It was a very challenging year for kywoo. Facing the increase in material and logistics prices, it was a very challenging year for a start-up company. With the original intention of making good products and serving good users, we overcome With these difficulties, we have also gained support from many users.After that, there will be more difficulties, but we believe that we will get better and better.
A Year Closer to Users
Kywoo 3D has always been user-centric and user-oriented, aiming to provide users with better quality and more convenient 3D printers and products. After one year, the Facebook user group has grown to more than 1,000 members. Users are always willing to innovate and share. They often share their printing works and printing experience in the group, and continue to provide us with good feedback and constructive suggestions to help us develop the products, services, and user experience better.
Based on user feedback, we improved the power of the Tycoon Max hotbed and the wiring at the bottom of the hotbed; in response to user needs, we designed and produced Kywoo yellow filament that is consistent with the color of Tycoon machines, which is convenient for users to create...As one of Kywoo users, Brandon, in the FB group said, "No printer is perfect unless the company is willing to take suggestions and make changes."
Thank you users for the consistent trust and support for Kywoo 3D. Whether at present or in the future, we will always adhere to the Kywoo core value of Innovation, Dedication, Integrity, Sharing, and customer first, and strive for perfection in products.