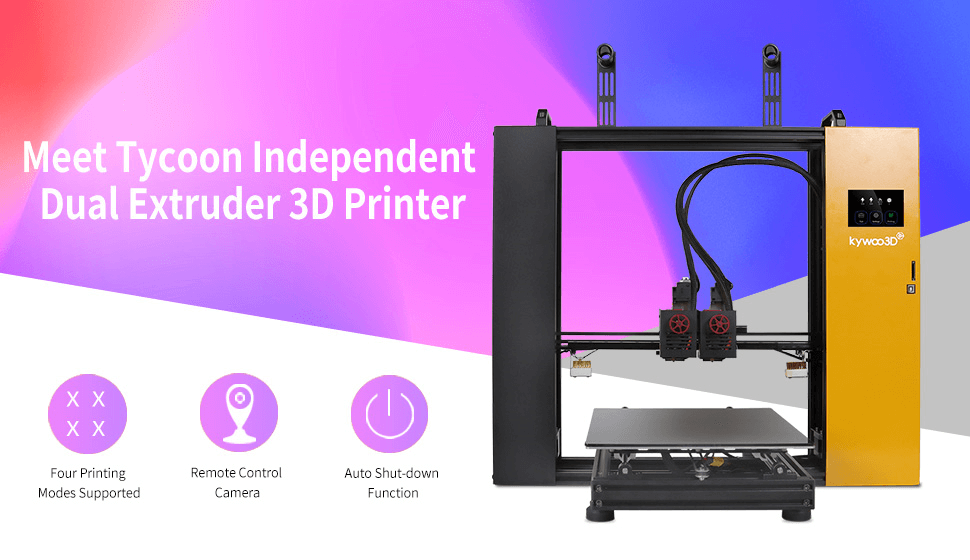 What type of extruder does an FDM 3D printer use?
Usually, it has one or two nozzles. Although printers with one nozzle are currently very popular, using two nozzles allows you to use two materials at the same time and combine two colors in one print, which makes them more beneficial in high-quality 3D printing.
Currently, there are two types of dual extruders: dependent and independent. When using dependent extruders, the nozzles are connected to each other, and one nozzle follows the direction of the other nozzle.
With independent extruders, the two nozzles move independently of each other. Although printers with dependent extruders occupy most of the current 3D printer market, printers with dual independent extrusion systems can improve printing quality and reduce production time to a greater extent.
Now Kywoo brings Tycoon IDEX, short for Tycoon dual independent extruder 3D printer, to all 3D printing enthusiasts.
Let's take a quick look at this new machine: 
Advanced fun from IDEX, four printing modes available
Besides the simple single nozzle printing, advanced than single extruder printers and dependent dual extruder printers, IDEX printers enable printing with different materials and colors of filaments.
For example, water-soluble support can be used for complex printing. Since the extrusion heads are independent of each other, the two nozzles can be set at different temperatures, and even with a big difference. This allows users to make more material combinations.
The independent dual extruder system allows two identical parts to be printed at the same time. This doubles the production speed of the printer, thereby making the machine more effective in mass production.
In addition to the copy mode of Tycoon IDEX, you can also use the mirror mode to print symmetrical parts of the mold.
Print with full acquaintance and safety
Tycoon IDEX is equipped with a high-definition camera as standard. Even if users are not near the printer, they can check the printing situation at any time and anywhere via the computer or mobile APP, remotely control the printer in real-time, and deal with printing problems in time.
Need to leave in a hurry? Do not worry! When the printing is finished, the Tycoon IDEX 3D printer will shut down automatically. This energy-saving auto shut-down function adds a critical layer of additional security.
We've also added essential quality features, such as the ability to resume printing after a power outage. Don't let the annoyance of a power outage derail your progress. After the power is restored, printing will resume to the position where it was interrupted last time.
Dual cleaning brush
Some IDEX 3D printers on the market provide dual extrusion without cleaning brushes. In the two-color mode, since the inactive nozzle is parking on the other side of the bed while its temperature is on, this design has some shortcomings such as leakage. This is not the same case if there is a cleaning brush under the nozzle.
For the Tycoon IDEX 3D printer, the situation is different. When one nozzle is active and printing, the other inactive nozzle will move to the side of the bed.
Since there is a cleaning brush under the nozzle, any filament leaking from the inactive nozzle will be cleaned by the cleaning brush. This prevents material contamination and provides clearer printing results.
Unleash your creativity with integrated direct drive extrusion
Since the extruder and the nozzle are very close, less torque from the motor is needed to push the filament out. It can handle a variety of materials, including PLA, TPU, PETG, ABS, PVA, wood, etc.
It usually provides a more precise extrusion effect and enables faster retraction speed.
Solid cube structure, intelligent & precise for all
Tycoon IDEX 3D printer inherits the classic solid cube design of Tycoon series printers. Compared with the traditional pulley system, the stable X-axis linear rail structure, double Z-axis, and gantry increase the print accuracy by 30%.
The combination of these functions can greatly improve stability and reduce jitter, thereby achieving more effective and higher-quality printing.
Different from other 3D printers, the Tycoon series printers are specially designed with double Z-axis, double Y axis, double gantry structure, and timing belt, which can ensure 100% stability without wobbling and shaking during printing.
Stay tuned to Kywoo3D on Facebook, YouTube, Instagram to get the latest update from Kywoo3D!