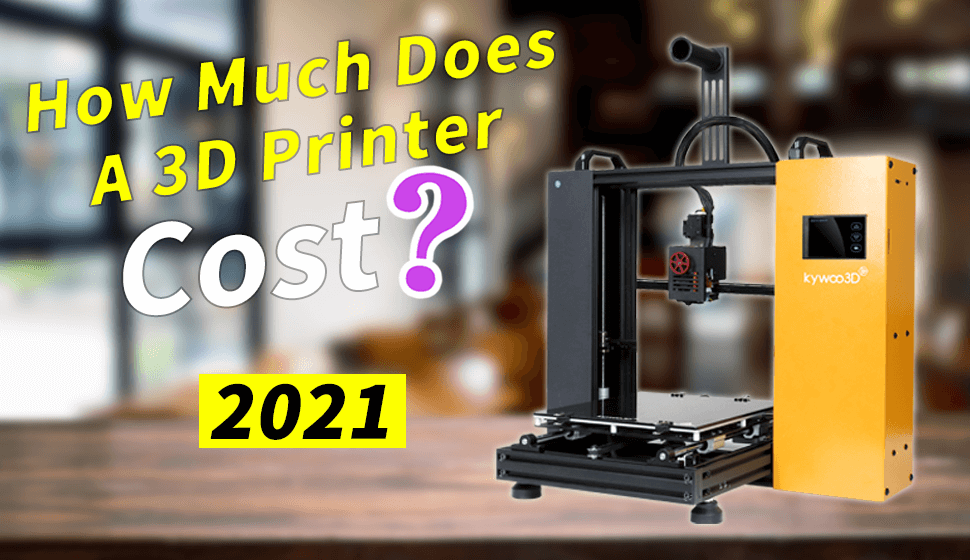 As there are more and more types of 3D printers on the market, the prices of 3D printers are constantly emerging. The average price of 3D printers on the market now is $700, and the cheaper ones are around $200. There are even higher-end machines that cost as much as $1000.

What kind of 3D printer is worth such a price, what much exactly does a 3d printer cost? and how do we choose our own 3D printer at the right price? That's what a lot of friends ask about, You will find the answer in today's article.

We all know that Entry-level 3D printers are relatively simple in structure, and the cost of the machine is relatively low. For people who are just beginning to operate 3D printers, this type of 3D printer is more inclined to understand 3D printing knowledge and the beginning of familiar skills, so you can choose a relatively cheap printer, and you can choose a more professional-level printer after you have fully used it.
Professionals use 3D printers at a much higher price than amateurs. This is because professionals tend to invest in higher-quality equipment, not just structure.
According to Sculpteo's data, the average professional budget for 3D printing in 2017 was US$9,504. Compared with 2016, this number has increased by 55%, which shows that the company is looking for more value in 3D printers.

How much does a 3D printer cost? In fact, you depend on what kind of equipment you need, different brands and models can meet different needs, and 3d printers are no exception.
Before buying a 3d printer, you first need to ask yourself:
1. What do you want this 3d printer for?
2. What is your budget?
This is a simple start, but it will lay a good foundation for you as you narrow down your choices. By answering these two questions, you will be able to make a more informed decision.

Types Of 3D Printers
Entry-level 3D Printer | $200-$400
Entry-level 3D printers, also call beginner 3d printers are suitable for most novices. They are a good way to learn about the technology before upgrading to a more expensive model. They usually have a gentle learning curve. However, your experiment will have limitations.

Generally speaking, for a novice who is just getting started, the choice of 3D printer functions can be relatively low, and the price will be relatively low.
However, it is true that there are also many functions on the market that have already integrated many functions such as wifi function, automatic leveling, The tuned DIY 3d printer is relatively affordable, but the print size is relatively limited. The Tycoon 3d printer kit that has just come out has a relatively moderate price, but it can achieve industrial-level print quality.

Compared to more expensive models, entry-level 3D printers can be noisy and slow. The print quality is not that impressive. They are not very durable either. Nevertheless, they are great learning tools, and they are a good stepping stone for those who want to improve in the future.
Hobbyist 3D Printers
Hobbyist 3D Printer | $300-$1500
3d printer Hobbyists are those people who already have experience in 3d printing, and want to get more from 3d printing, they have passions for 3d printing, and desire to get more ideas, most hobbyist 3D machines are faster than entry-level options. 

A 3D printer for hobbyists is an important step from a more basic model. Even so, they still can't satisfy the fun of printing. They are also not as robust or reliable as the following categories, so you don't want them to run for too long or use too frequently, a 3d printer cost around $300-$1500, basically with all function it should have, mostly more stable running with better quality.


Enthusiast 3D printer | $1500-$3500
This is what we expect for this type of 3d printer:
• With sturdy construction and user-friendly features

• Up to 8-12 inches can be printed in any direction
• A 3d printer costs $1500-$3500 must work quieter and faster than an entry-leveling and hobbist 3d printer.
• Compatible with all kinds of filaments like PLA/ABS/TPU/PETG/Nylon/ Wood/Metal.
It is important to note that even at this level, you do not want to go into production. There is a reason why they belong to the category of enthusiasts rather than professionals.

If the operating time is too long and often, you may find yourself performing maintenance frequently. Many of these machines are well suited for regular use, but cannot be used continuously. Faster printing sounds good, but if you want to produce the best quality 3D parts, always choose a slower printing speed.


Professional 3d printer | Up to $3500
Buying a 3D printer from the professional category means that your machine can "work" for you. Either, or you have a lot of free cash to spend on serious hobbies.

These machines can print high-quality 3D parts, and some machines have a build area of about 12 inches (all sizes). The range of 3D printing materials, including different textures and multiple colors, has now been greatly expanded. The best machines in this category can also print quickly while maintaining quality.

Read real user reviews to find out the durability of the printer. For example, does it require regular maintenance? If so, how easy is it to keep progress? What are its advantages and disadvantages, and do any of these disadvantages apply to you and your setup?

These printers are not cheap. In order to make the best decision, make sure that all the models you choose have all the correct boxes checked.
 Now in the 3d printing market, there's kinds of 3d printer comes out with different price, it actually depends on what functions do you need, there's some tips you should take into consideration: 
1. Buy from the authorized brand directly.

2. Check on the customer service, because 3d printer is unlike other product, sometimes it needs technical support often.
3. Does the function it owns are the ones you need.