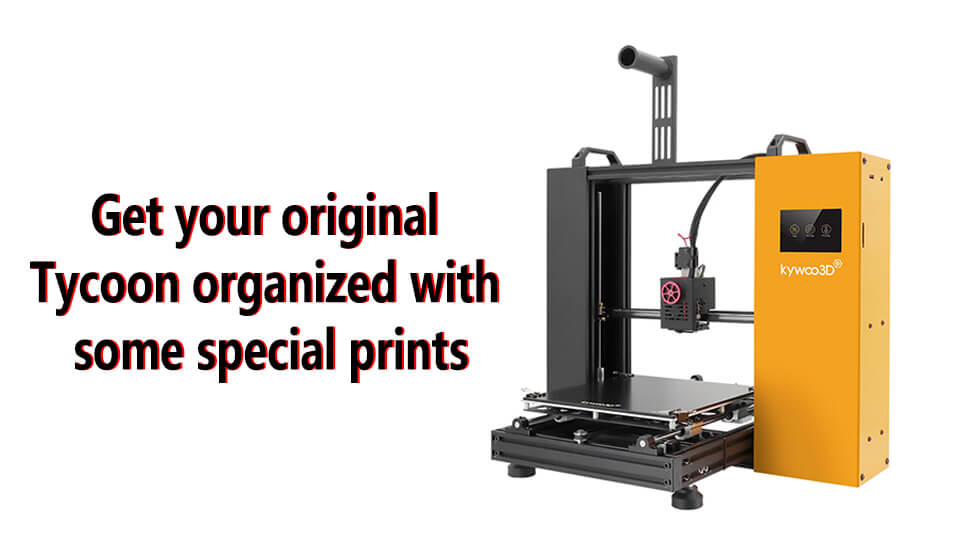 Tycoon is a 3D printer machine with strong moldability. Sometimes it may feel a little cumbersome, but the overall stability will be stronger. At present, many 3D printing players like to modify their 3D printers to make them look cooler and more like friends. many of our users have also added decorations and tools to our printers to make it even better, excellent and more playable since it comes out., let us now take a look at what aspects of the transformation of our users can make our machines more interesting? I have to say our users and players. they have taught me a lot about 3d printing. Now let's see what you can do for your 3d printer?
1.Some customer has mentioned that the wheel with the extruder kit is the most expressive part on the machine, the filament is easier to feed-in and feed-out, especially the red wheel design makes it cooler. Did you know that you can design the shape of the wheel you'd like?
2.You may like to make a change of your tycoon side and front decoration cover and add it to your tycoon 3d printer, I actually more like it to looks more technical and unique. 
3.Jack, our co-founder is really loves designed some special stuff more interesting. He modified the star wars robot and make it Toolbox more compatible with a profile of our tycoon 3d printer. You can check here to download the file if you'd like.
Not only that, our lovely customers are so kind to show us their gift. They have also designed some add-ons on their Tycoon 3d printer. Let's check more.
Bill Mac is one of our sweet customer, he bought himself a Tycoon Max 3d printer and loves it. He mentioned that this is his first 3d printer, and just getting started learning how to operate and use a 3d printer. Bill is happy to share him with us on facebook group since he bought the machine. He is a very patient friend and good at solving problems. The following are some very thoughtful transformations and designs he made on Tycoon Max.
1. The Tycoon max logo is designed intimately, and I particularly like this logo
2. With the addition of lamps, the entire printer looks completely different, especially when printing, you can see the details of the entire print more clearly.
3. In addition, he also added a stand to support the shooting, better record the time-laps of printing.
4.Make a new filament guide for the Max
How many ways you can add to make the filament goes more smoothly?
People like to design themself the filament holder to enable the filament feed-in straight, this is what our users designed for the Tycoon.
This is really a good idea to keep the filament in a dry condition and easier to change the filament, 
Dry box v2 complete! Only high-quality filament for my Max! _Bill MacFarlane 
KYWOO Tycoon Max with Filament Roll on the lower profile and LED . The printer stands on a special bumper. -Noc Noc
My new filament roller. Thanks to Eli Mamane for posting up the link to this model!_Libbie Burger-Burkette
My new filament guide hahahahaha_Eli Mamane
Eli Mamane says that this is also his first 3d printer, and he also mentioned that he learn 3d printing from Tycoon a lot. We all know that learn from practice, especially 3d printing, so does Eli, he designs and creates several fan ducts for testing which kind is best for his tycoon, he also helps us to find out how to print better models, sometimes some parts need to be replaced while a long time printing, or sometimes some connection not goes well will cause the machine defect. If you just start with 3d printing, then you will need some time to start learning how to works with the machine as a friend.
We are so lucky to have customers full of ideas and creation, really encourage us to produce better products, we shall believe that only 3d printers with higher quality will earn respect from other brands. 

Kywoo 3D also wants to build up a community that we can learn from each other you are a beginner or maker. we welcome you to Join Kywoo 3D official Facebook Group learn with Kywoo 3D families, Get inspired and create with Kywoo 3D.