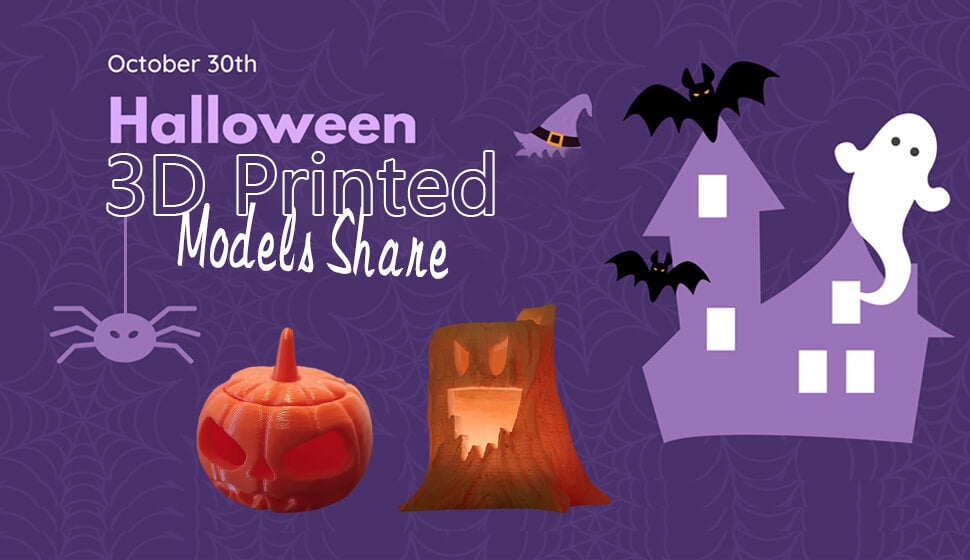 Happy Halloween! Halloween is around the corner and getting close! As one of the biggest celebrations in many western countries, nowadays, it has become more and more popular, many people celebrate this holiday with great enthusiasm and children will put on makeup and masks and collect candies from door to door that night. or maybe you'd like to print the mask yourself if you own a 3d printer. what are the other models you can print for the Halloween hoilday? many Kywoo 3D printer users have share their printed work in Kywoo user group. Let's take a look of the excellent prints.
1.Magical pumpkin skull printed with colorful PLA 3D filament. Pumpkin is always a main element of Halloween, combined with skull, printed with gradual rainbow PLA, this one looks amazing. The model is designed by RandomizY, a very creative 3D designer, model link: https://thangs.com/RandomizY/Pumpkin-Skull-28008
2.Halloween pumpkin spidertransformer, been done some modifications for a better fitness by our user, Gaurav Gulati. Model created by William Bruning(@Megawillbot), you can find it on @Thingiverse, Thing 3129886. It combines the pumpkin and spider, and gonna be the most eye-catching item on the Halloween party!
3.3Dprinted Frankenstein's Monster with Removable Brain, shared by one of our customers. You can even use his head as a chip bowl for your Halloween party. You can find it on @Thingiverse, Thing 1081535.
4.Twist Lock Coffin, very suitable to print for kids to put their candies in on Halloween. Created by Joe Kovell(@3d-printy), this model can be find on Thingiverse, with thing number: 4967007.
5.Jason X Mask, you can find the model on Thingiverse with the Thing number: 2759556. Seeing this reminds me of the horrible feeling that when I first saw the movie, "Friday the 13th". It's no doubt a wonderful mask costume that you can put it on on Halloween!
6.Have you seen "Squid Game", a popular Korean drama recently? Cash-strapped people play children games, with the risk of death...OK, no more spoiler! Some of the users shared that they printed the Squid Game mask for this Halloween. Really nice custom for a Halloween party! Win or death...
You can find many "Squid Game" Mask model files on thingiverse. Print one yourself with Kywoo Tycoon 3D printer, and enjoy your game~
 There are many other creative models shared in our Facebook user group.Currently, the Tycoon and Tycoon Max are having Halloween Promotion, buy a printer, you can get a 10% OFF plus a FREE nozzle set. Learn more here and get one to start printing for fun!