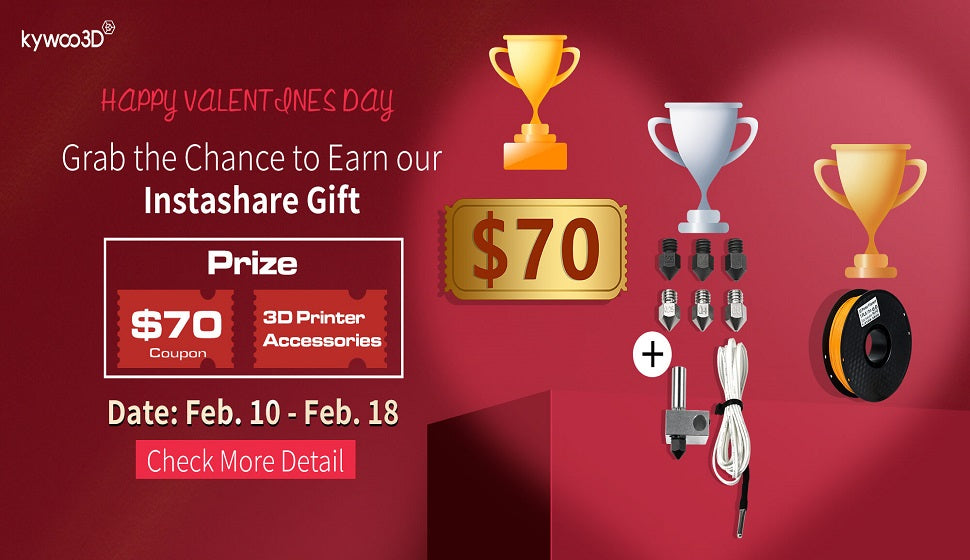 What will Kywoo3D's romantic users show to their lovers on the coming Valentine's Day? Nerd or cute? That depends.
You may date in a fancy restaurant, watch a Valentine's Day movie, have an at-home trivia or board game night, or even make chocolate fondue, well ---- we makers don't do that, we spend our Valentine's Day in our garage. That's the joke. But now Kywoo3D sincerely invite you makers to join our Valentine's Day campaign.
How to Join our Instashare Campaign?
Participants can enter the campaign through Instagram by posting photos to win gifts:
1.Post three pics of printed giftswith required hashtags #Kywoo3d,  #kywoo3dlover and #Kywoo3DValentine
2.Follow and mention @kywoo_official  in your post.
We will collect the top three participants who get the most likes to send our gifts.
Give Kywoo3d_official a shout-out on Instagram !!! 
Prizes:
#1: $70 non-threshold coupon  *1
#2: Kywoo3D Printer Nozzle Set *1 + High Temperature Printing Kit *1
#3: Kywoo Yellow 3D Printer Filament *1
Treat your 3D printer like a lover, please just dive right in!