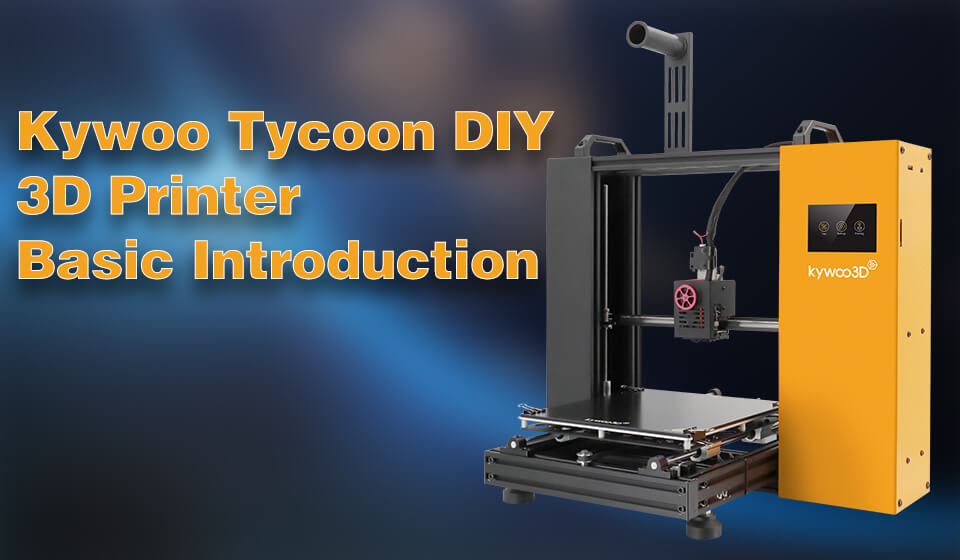 The market for 3D printers in all of us is gradually becoming larger and larger, and 3D printer technology is slowly entering our lives. It is more widely used in education, art design, industrial applications, medical care, architecture, etc., more 3D printing companies and 3D printing products have also appeared in our vision. Today, let us get to know the coming emerging product, which unveiled in 2020. It is different from other conventional DIY 3D printers on the market. It has all the functions that a DIY 3d printer should have. let us meet our new friend-Kywoo Tycoon DIY 3d printer.
Kywoo 3D Printer Company
Before getting to know Tycoon, you might like to learn about Kywoo 3d company first. Actually, Tycoon series 3d printer products are the first product of Kywoo 3d. Kywoo 3d printer company is an emerging 3d printing company, which is a start-up company focusing on user experience. the first Kywoo crowdfunding project started in 2020, and successfully won 175 bakers on the Kickstarter. So far, all the machines have been shipped out and users have given high praise to Kywoo machines and customer services. This is a new beginning, also a new challenge for Kywoo. So what is so attractive about this DIY 3d printer? What makes it so special? Let's discuss more.
Tycoon Series 3D Printer


1. Direct Drive
Most of the machines in the market are designed with Bowden extruder while the Tycoon 3d printer is specially designed with the direct-drive system, which compatible with a large range of filament types, including PLA, TPU, PETG, ABS, and so on.

Since we are here, have you ever thought of what is Bowden extruder and direct drive system, how do these affect 3d printing? A picture can better show you here.

Direct extrusion is a method of extrusion by which the extruder pushes the filament directly into the nozzle. This method is helpful for many reasons. A Bowden extruder is mounted on the printer's frame. It pushes and pulls filament through a long PTFE Bowden tube and into the hot end.

The Bowden-style configuration is popularly known for its ability to print at faster speeds compared to Direct-style configurations due to its lower moving mass. A major disadvantage of the Bowden system is more materials like PLA can be well printed with certain Bowden, but it doesn't perform nicely while printing with TPU, PETG, and other flexible filaments, but only workable with more software to produce more satisfactory parts.

Direct Drive extruders are the most popular type of extruders. A prominent advantage is responsiveness that is inherent with Direct configurations because of the location of the extruder relative to the hot end. Given the smaller distance, extrusion and retraction commands are more immediate, thus creating a more stable material deposition control, which in turn provides higher resolution. Machine with diect drive can perfectly print with PLA, ABS, TPU, PETG, and other filaments.
1.  Unique Appearance
Upgraded "DIY pro" frame structure design with complete accessories set, neat & elegant appearance with the color between yellow and grey gives you a unique user experience, Tycoon is totally different from the other common DIY 3d printers in the market, all the wires are hidden inside, no other exposed wires provide you a safer working environment.
2. Machine Easily Set-up
Instant Setup - Simply install 4 screws and you're ready to go. Installation and setup take just minutes - no matter where you are.

The most powerful design of Tycoon is the Nozzle kit we select, Unlike other normal DIY 3d printers, the extrusion and heat dissipation structure on the 3d printer are seamlessly integrated to avoid vibration and terrible wear, especially the cool red rotate wheel design makes the filament easier to feed-in and feed-out, which makes the customer very impressed, you can also better view the situation of printing in real-time with this, make sure of the model can be perfectly print-out.   
3. 100% Stable Ensured, No Wobbling & Shake Anymore
We are making a difference, we have done some research, and found that most of the machines in the market are made of a single X-axis and Y-axis, also with a single gantry for cutting the cost, this may not be 100% stable while printing, sometimes there will be the impact on the printing models. the structure of the tycoon 3d printer is specially designed with Double Z-axis, Double Y-axis, Synchronous belt, and Double Gantry structure for 100% stability ensured, No Wobble & Shake Anymore while printing.
4. Auto-Leveling Function
We always think that the auto-leveling function is the most important and necessary function that a 3d printer should have. Leave the time sink of manual leveling behind, Save time and maximize accuracy and print quality with auto-leveling - the Kywoo makes adjustments automatically as you print.


5. Reliable Wifi Connection 
The Wifi function allows files to the printer can be transferred via Cura from your desktop or laptop and print quickly, also, the Tycoon 3d printer is Fully-compatible with both SD and TF cards - no card adapters required. (This function is not in the Beta version machines, but will be shown on the next batch machines.)


6. Stable X-Axis Linear Bearings
A stable X-axis linear bearings structure, dual Z-axis, and gantry frame improve accuracy by 30% vs traditional pulley systems. These features combine to greatly increase stability and reduce shaking, resulting in more effective, higher-quality printing.
May some customers have confusion about what is Linear bearing, does it better than the V-slot profile? Linear rails also referred to as linear motion guides and linear slides, are common motion components used to achieve smooth sliding motions.

What are the benefits?
1.Linear rails are stiffer with longer life.
2.Higher precision, smoother motion.
3.Easier, more precise mounting.
6. Powerful 32-bit TMC2208 Silent Motherboard
Most of the basic DIY 3d printers on the market come with the normal mainboard, the "whining" and "whirring" noises that come out while printing might drive you crazy frequently. The Tycoon 3d printer is specially customized with a 32-bit TMC2208 Silent Motherboard, higher speed processing, stronger expansion, Lower Decibel provides you a quiet working environment and higher print quality. No disturbing problem and failure models happened anymore while printing.
7. Color HD Touch Screen With 9 Languages Supported
The Tycoon 3d printer works perfectly with the sensitive HD touch screen, Clear and exquisite icons design make it look more detailed and well-executed. truly achieves simple operation and better responsiveness; for better user-experience, we designed to add9 more foreign languages, make it more selectable and convenient for most the users.


Tycoon 3D Printer Parameters
Customer Real Reviews
Some customers have received their machine recently let's check out what they said about our tycoon 3d printer. Welcome to join our official group to learn more about real reviews.

1.I had to make sure I wasn't grading it easier than it should be or grading another printer harder than it should be. but no. According to my own scale, the Kywoo3D may be the best 3D printer. It's not the most capable. It's not the easiest to use. It's not even the cheapest. But it fills out its area of effect so well that the sum of all its parts says Kywoo3D should maybe wear the crown. ——3d printing professor.

2.I wanted to share my user experience with it so far before the Kickstarter ran out. I am super pleased with it. I will never suggest backing a Kickstarter but this one comes close to it for the simple fact of saving some money. It's $279 on Kickstarter but will retail for $439. I believe this printer will be the next CR-10. We will have to watch and see. ——Karl Johnson.
Reviews from Facebook Group:


Kywoo has produced two versions of Tycoon 3d printers for more user options, the functions of Tycoon (240*240*230mm)and Tycoon max(300*300*230mm) are the same expect the printing size.
Later in 2021, there will be more surprises like the Tycoon IDEX version and other machines coming up. Welcome to join our official Facebook Group for more news updates.