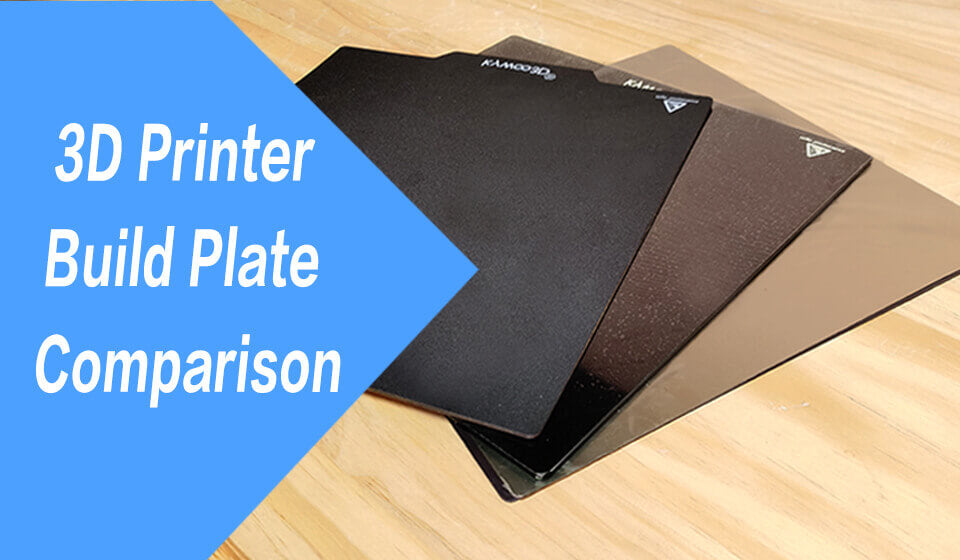 Why 3d Printer Build Plate Matters??
3D Printer build plate can be said is one of the most important parts of any kind of FDM 3d printer, The build plate is probably among one of the most important parts of any kind of DIY 3D printer, as you can't extremely well print without it. They can be found in several variants, with different surface areas, thermal features, and prices.

On the one hand, the build plate can ensure a completely (or virtually perfectly) flat surface area for the bottom layer of your print. On the other hand, it usually offers an adhesive surface for the extruded plastic to develop a momentary bond with during a print, or a surface area onto which an adhesive can be applied.

Basically, the build plate is a flat surface that printed objects will stick to during a print. So with a better build plate, Your model will be more likely to be printed successfully.

Now, most people use the glass bed, PEI plate, and flexible plate a lot, may some beginners have no idea what are the differences between these three kinds of build plates, today we are just simply talking about these three build plates. Let's move on. 
Glassbed VS PEI Plate VS Magnetic Build Plate
Normal Glass Bed
Glass is extremely stiff and (if made properly) flat, meaning that it shouldn't warp over time, and will always provide a solid surface to print on. It's also dense and has a low thermal conductivity, which means it takes longer to heat up but also spreads the heat more evenly around the build area. Commonly used varieties are mirror tiles and purpose-made borosilicate glass sheets.

Glass is usually paired with an adhesive such as the everyday glue stick, painter's tape, or some varieties of hairspray, all of which allow the bottom layers to stack nicely and not delaminate during a print. When used with a glue stick or hairspray, glass is known for the extremely smooth finish it gives to the bottom of prints.
Now, most 3d printer in the market remains the tempered glass bed as the advantages as follows:
It is extensively approved that no one build plate is best, it actually depends on what you want to print, glass as a bed for your 3D printer, nonetheless, offers several benefits that are worth taking into consideration.
Typically speaking, what makes glass a good choice is that it's a dependably level, tight, dense, as well as economical material. We can see that now most of the 3d printer in the market remains the tempered glass bed with the advantages as followings;

1.Flatness: printing build plate must be constantly flat while printing,
2. Smooth Finish: Designers desire the all-time low of their prints to be as smooth as feasible, and also glass assurances such a finish. It provides a mirror-like, glossy base that can't be achieved with the majority of other surfaces.
3. Easy Cleaning: Beds commonly gather oil, dirt, as well as undesirable plastic pieces that lead to an unequal and also unreliably adhesive print surface area. This makes cleaning a necessity, and few printer beds tidy as easily as a smooth sheet of glass, once more thanks to its smooth, level, and rigid surface area.
4. Uniform Home Heating: Even for products that do not require need it, heating up the print bed can substantially enhance how well a version prints. Lacking thermal conductivity, glass beds commonly take longer to heat up, yet they also spread out warmth much better than various other surface areas. This can considerably aid when experiencing very first layer issues, as you can be sure various locations will certainly be impacted similarly.
Polyetherimide, more typically understood in its shortened type PEI, is a "fairly maintenance complimentary" construct surface that can be used for all types of filament on a heated or unheated print bed. It does not need any type of additional adhesives such as glue or tape. In the 3D printing world.
PEI calls for "no-surface-prep" before usage, which makes it very hassle-free to work with. The standards for use additionally recommend that using a PEI sheet on your print bed will remove the requirement for a raft or border, as components are expected to adhere straight to the surface area uncreative.
PEI build plate has outstanding mechanical properties, radiation resistance, high as well as low-temperature resistance, high-temperature security, and also high wear resistance as well as good flame retardancy, chemical resistance, and also electrical insulation characteristics. Not to mention ... it can be found in several colors too!
Adavantages:
It is readily available, fairly low-cost to purchase, and also simple to use as well as eliminate.

It can provide excellent adhesion for a printed item, removing the need for tapes and glues. Especially if you want to print with some flexible 3d filaments like PETG, ABS, TPU. It would be better you have one on your 3d printer.

It offers a smooth surface finish (while it stays undamaged).It gives excellent thermal conductivity for a heated bed.
Disadvantages:
It is relatively soft and also can be damaged by a badly changed print bed or extreme scratching.

It can adhere extremely strongly to a published product, taking the chance of damages to both the bed as well as the item in addition to taking a lot of effort to eliminate the printed product.
Magnetic beds are the brand-new standard on lots of modern-day 3D printers due to the fact that they're straightforward to utilize, enable great adhesion, and also when finished, conveniently pop right off
Advantages:
Adaptable sufficient to release prints quickly

Works exceptionally well with PLA filament

Cheap to change if needed
Disadvantages:

Prints can stick also well when utilizing ABS or PETG

The upper limit of 80 ° C (losing its magnetism above that temperature level).

Easily damaged
How to Select the Right 3D Printer Build Plate?
As I mentioned before, there's no one can specifically saying which platform is the best, as we know that some 3d filaments like ABS, PETG requires higher nozzle and bed temperatures, we suggest print on PEI or tempered glass bed rather than the flexible magnetic plate,
If you print with PLA and TPU filament, these three build beds are optional, for easier removal of the model, flexible platform will be a good choice for you. If print on the glass bed, you might have to wait until the bed is cool enough to get the model. It really depends on what you need for printing.