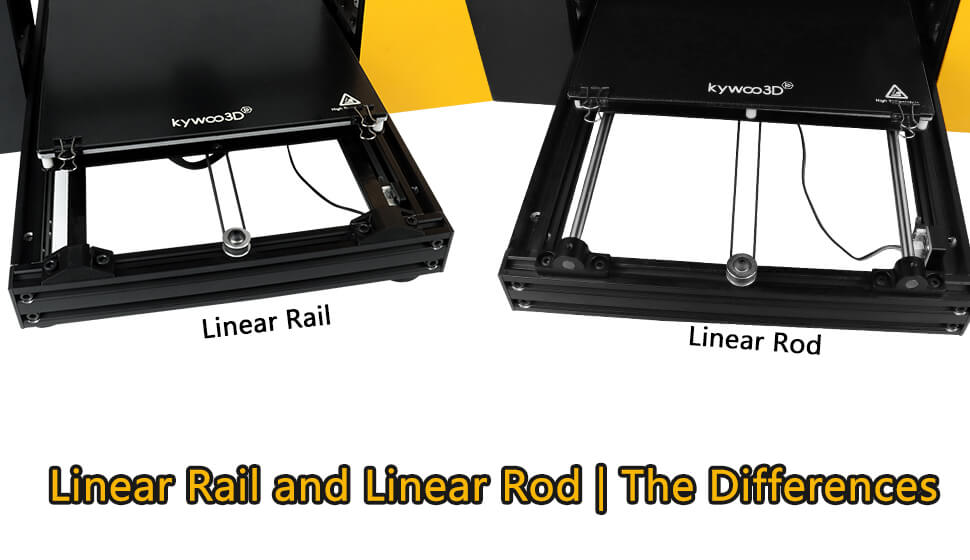 Escalate your linear rod to a linear rail? Or just to put butter on bacon?
Linear rails, also known as linear slides and linear guides, are small in size and light in weight so especially suitable for miniaturized equipment to achieve smooth sliding.

A linear rail often adopts a Goethe-style four-point contact design, which can withstand loads evenly in all directions and self-aligning function, can absorb the assembly error of the mounting surface, with high precision under high load.

Then compare to linear rod, what endows linear rail a High Precision?
1.Less friction resistance
The linear guide has little friction resistance, only a small driving force can activate the movement of the load. Low frictional resistance helps minus the temperature rising side effect and mechanical loss. Thus, the accuracy or high precision could be maintained rather than the traditional linear rod slide system.

2.Rigidity
Rigidity also matters, the design of linear guide rail and block features an equal load rating in all four directions that request sufficient rigidity load in all directions, and self-aligning capability to absorb installation error. Moreover, a sufficient preload can be achieved to increase rigidity and makes it suitable for any kind of installation. Compared to 3d printer linear rods, linear rails are stiffer. Linear rails flex significantly less than linear rods, due to factors such as shape and metal stiffness. In terms of 3D printing, this leads to greatly reduced backlash and ringing artifacts, yielding cleaner print surfaces and edges.
Due to its little friction resistance, linear rails are compatible with high-speed printing.

Linear guide block, rail, and ball apply by the contact point of the Rolling system. Besides, for its characteristic of low frictional resistance, the required driving force is much lower than that in other systems, thus the power consumption is small. Moreover, the temperature rising effect is small even under high-speed operation.
Factors that contribute to exchange a linear rail for pros above may be sophisticated, but some reasons are not:

3.Less Noise
Phonophobia's mind nectar.

4.Easy for Maintenance
Compared with the high-skill required scrapping process of the traditional slide system, the Linear Guide can offer high precision even if the mounting surface is machined by milling or grinding. Moreover, the interchangeability of the Linear Guide gives a convenience for installation and future maintenance.

5.High Performance without Clearance
Even under a preload or regular load, the ball and raceway contact one another at two points in the loading direction. This design gives rise to a smooth rolling motion.
6. Easy to Assemble
Rail Seat & Cushion for Kywoo Tycoon Y-axis Linear Rail Kit for the DIY user.
(https://www.thingiverse.com/thing:4964065)
Compared to linear rods, linear rails are definitely fancier but that doesn't mean linear rods are nothing to praise.
7.Hygiene levels.
Linear rod solutions are sealed units and are therefore generally better for clean environments, abundant surface treatments are available to meet the requirements of various industries.

8.Affordability.
Linear rods are generally a more affordable option than linear rail. And actually, a linear rail can meet most needs for a 3d printer beginners, if high precision is needed, a linear rail can be added to your cart.
Just to put butter on bacon? Linear rail would help you be a printing pro.